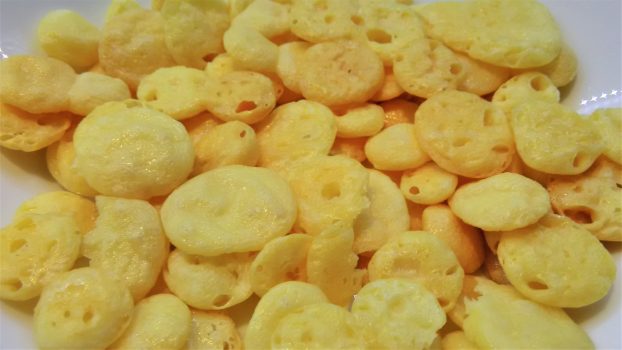 | | |
| --- | --- |
| | |
First, preheat your oven to 90-95°C (200°F)

Now, cut the big piece of cheese into small dices and bits

Then, put baking paper onto a baking tray and scatter the cheese bits on it. Remember to leave big enough gaps between the pieces

Afterwards, slide the baking tray into the oven and bake the cheese for 60-90 minutes in order to dry it. This time period may vary, depending on your oven and the type of cheese you use. If your oven doesn't have ventilation or if its thermostat isn't that accurate, I recommend to open the door about every 10 minutes or leave it opened with a small gap during the drying process

Always have an eye on the cheese, look after it every 10-15 minutes. In case it starts melting too much, open your oven's door to let evaporated water and some heat out. Also, the cheese should continuously decrease the amount of bubbles that it throws (evaporating water)

When almost all the water has evaporated from the cheese (no more bubbling), you can turn the heat up to 140-150°C (285-300°F) to make the cheese popping and give it some crisp

Afterwards, simply take out the baking tray and let the popped cheese cool down for a few minutes
I had no instructions for these so I thought, I'd just figure it out on my own.
You need to evaporate the water from the cheese, therefore a temperature of about 100°C -or right below it- is needed. This way, the water evaporates, without the cheese melting too much.
Nutrition Facts
Serving Size 100 gram
---
% Macronutrients
Amount Per Serving
Calories 370kcal
% Daily Value*
Carbohydrate (Netto) 0g
0%
---
*Percent Daily Values are based on a 2,000 calorie ketogenic diet (75% fat, 20% protein, 5% net.carbs). Your daily values may be higher or lower depending on your calorie needs and goals.
Watch on YouTube:
---