This easy kidney recipe with calf's kidney makes a delicious and nutrient dense meal. It is very satiating and perfectly suited for low carb diets. In addition, kidneys have a great offering of folate, iron, zinc, copper & selenium and are also a great source of protein for a post-workout meal.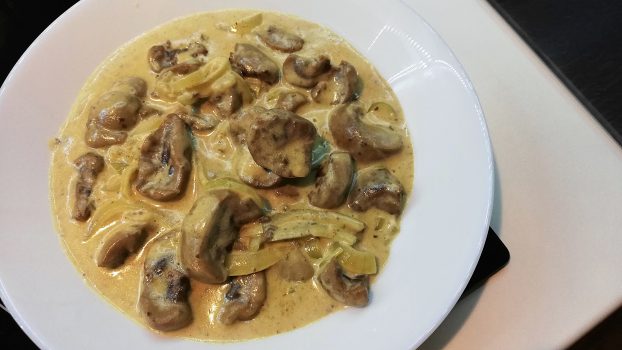 | | |
| --- | --- |
| | |
First, cut the kidneys in half and remove the gristly white centers carefully

It is best to use a paring knife for this. Remove as much of the white stuff as possible

After that, cut the kidney meat into bite sized pieces that and put them into a strainer. When finished, thoroughly rinse them with cold water for a few minutes

Now, add the salt to a big bowl, add some water and stir until the salt is dissolved. Then, add the kidney pieces and so much cold water that they are completely covered

Cover the bowl with cling film / plastic wrap, put it into the fridge and let the kidneys soak in water for at least 2 hours. After that, take the pieces out of the water, into a clean strainer and rinse them with fresh water again. Afterwards, let them drip off excess water for a minute

Melt the butter in a pan on low heat, add the kidney pieces and cook them for about 7 minutes while stirring occasionally.

Then, put them to the side (e.g. into a soup plate) in order to make the sauce in the pan
After cooking the kidney pieces, leave any remaining liquid in the pan and add the extra butter. Then, add the sliced onions and let them cook for about 5 minutes

Next, add the cream & cream cheese to the pan and stir until it is dissolved. Cook for about 10 minutes on low heat, until the sauce starts to thicken. Now is the time to taste the sauce and add salt & pepper to your preferences

Finally, add the kidney pieces back to the pan and let them simmer in the sauce for another 3 minutes on low heat. Don't cook too long or on higher heat as the kidney tends to become chewy then
Nutrition Facts
Serving Size 398g
---
% Macronutrients
Amount Per Serving
Calories 704.44kcal
from Protein 156.92kcal
22%
from net. Carb 25.28kcal
4%
% Daily Value*
Carbohydrate (Netto) 6.32g
25%
---
*Percent Daily Values are based on a 2,000 calorie ketogenic diet (75% fat, 20% protein, 5% net.carbs). Your daily values may be higher or lower depending on your calorie needs.
---