This avocado omelette with spinach & cream is very saturating. It is stuffed with healthy fats and nutrients, easily prepared within 30 minutes. In addition, this is an awesome breakfast and a good dish for preparing in advance and having it for lunch at work.
First, melt the coconut oil in an oven-suitable pan at low-medium heat on the hob and preheat your oven to 170°C

Fry onion in coconut oil for about 5 minutes, until golden brown

Next, add avocado to the pan and fry for just about 2-3 minutes while stiring

Then, add the spinach and also stir-fry it for 2-3 minutes

Pour the cream into the pan, add all seasonings and mix everything

Now, drop the eggs on top, stir everything for 1 minute and finally, put the pan into the oven for 15-20 minutes, until everything is solid
You can check if the omelette is done by poking into it with a chopstick.
If you pull out the chopstick and it is clean your omelette is done. If there are moist residues from the eggs on the chopstick the omelette needs a few more minutes.
I used frozen spinach that I thawed in the microwave before adding it to the pan.
If you use fresh spinach you don't necessarily need to precook it, but give it a few more minutes of frying in the pan.
I like to eat this dish with some cream cheese on the side.
You may also add shredded cheese on top right before you put the pan into the oven.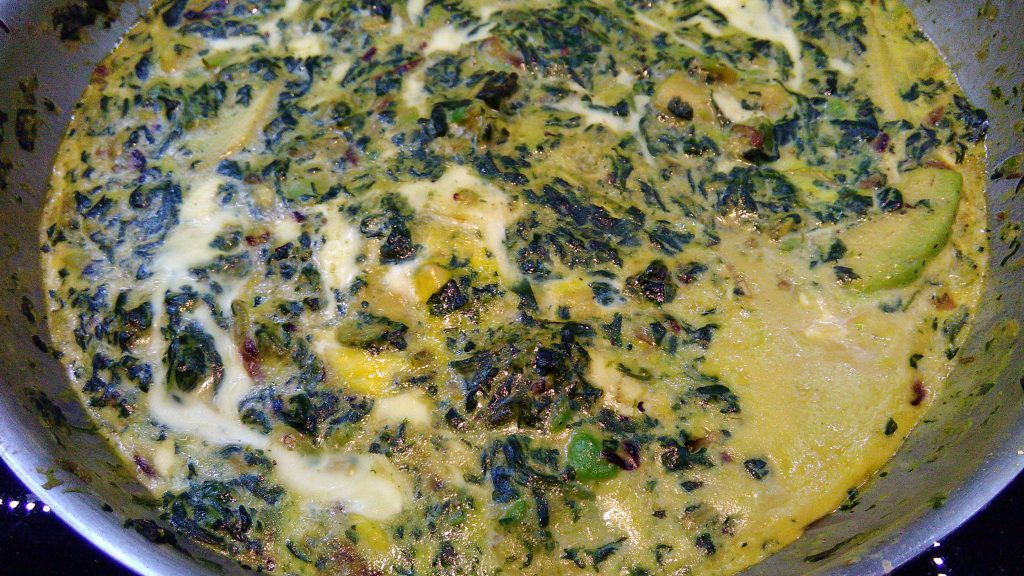 Nutrition Facts
Serving Size 100g
---
% Macronutrients
Amount Per Serving
Calories 112.92kcal
from Protein 21.6kcal
19%
from net. Carb 3.04kcal
3%
% Daily Value*
Carbohydrate (Netto) 0.76g
3%
---
*Percent Daily Values are based on a 2,000 calorie ketogenic diet (75% fat, 20% protein, 5% net.carbs). Your daily values may be higher or lower depending on your calorie needs and goals.
---