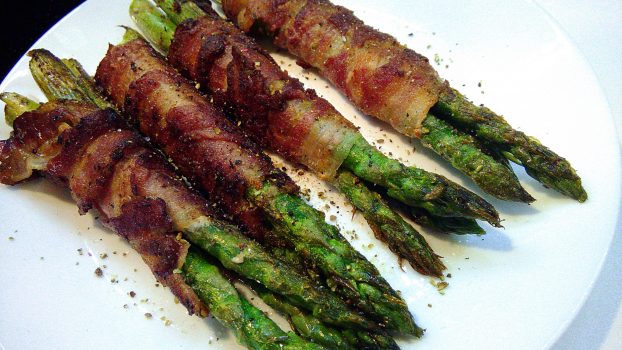 | | |
| --- | --- |
| | |
First, wash the asparagus with cold water and cut or break off the base from the spears to get rid of the stringy parts

Preheat a pan with about 10 gram of your preferred fat for frying to low-medium heat

Meanwhile, make groups of 3 asparagus spears and tightly wrap each of them with bacon. You will need about 3 slices of bacon per asparagus bunch

Fry the wrapped asparagus bunches evenly for a total of about 10-15 minutes, until the bacon is crispy

Finally, put the asparagus on a plate and add the seasonings
Do not remove more than one third from the asparagus. If neccessary,  just cut off about 1-2 cm from the base and peel the lower third.
Additionally, it is not mandatory to peel the whole asparagus spears. In fact, most of the healthy nutrients are densely packed just below the skin and you probably don't want to get rid of these.
Another tip: To avoid throwing away too much of this healthy food, use the cut or broken off ends for a fond/broth or soup.
Nutrition Facts
Serving Size 100g
---
% Macronutrients
Amount Per Serving
Calories 163.53kcal
from Protein 22.32kcal
14%
from net. Carb 5.44kcal
3%
% Daily Value*
Carbohydrate (Netto) 1.36g
5%
---
*Percent Daily Values are based on a 2,000 calorie ketogenic diet (75% fat, 20% protein, 5% net.carbs). Your daily values may be higher or lower depending on your calorie needs and goals.
Watch on YouTube:
---