This stuffed meatloaf with pulled pork & cheese is a real meat monster. It takes a few hours of cooking time, but the waiting is definitely worth it. In addition, this meatloaf is delicious, extremely satiating and perfectly suitable for a ketogenic diet.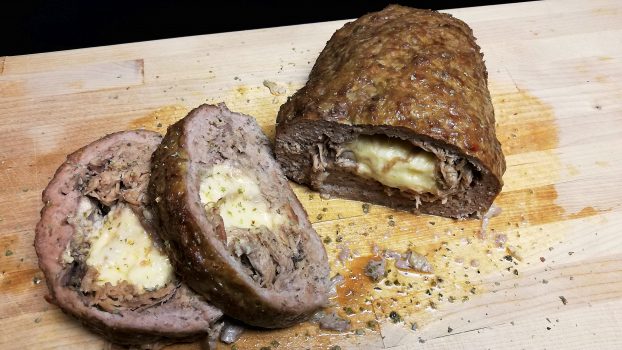 | | |
| --- | --- |
| | |
First, use the pork shoulder to make pulled pork. I used a stewing pan in which I seared the meat, then added some water and put the pan into the oven for about 6 hours, with the lid on.
If you are not sure on how to prepare it, just use my easy and foolproof method for which you don't even need a stewing pan: Easy Pulled Pork Recipe

When the pork is about to be done, start to prepare the meat mixture. For that, put the ground beef, eggs & all seasonings into a bowl and mix everything thoroughly until it is a homogeneous mixture. You may use a food processor or simply mix it using your hands

In the meantime, preheat your oven to 150°C (300°F)

Take the pork out of the stewing pan / pot, remove all bones, pull the meat apart and keep it on a plate or in a bowl. Then, put a piece of cling film onto a cutting board. This helps to wrap the meatloaf up

Now, spread the meat mixture on the cling film, as evenly as possible

Afterwards, add the stuffings on top. Spread the pulled pork evenly and the cheese only on one half

Then, use the cling film to wrap everything up. Start on the cheese side first to make sure that the cheese will be completely wrapped up and can't leak out

When it is all wrapped up, put the loaf onto a baking tray with parchment paper and carefully remove the cling film

Finally, bake the meatloaf in the oven for about 1 hour
Of course, you may also use any other cheese you prefer, like mozzarella, parmesan or cheddar.
The pulled pork turns out great if you use pork neck instead of shoulder, too. It may be even better as pork neck usually is a little fattier then shoulder and therefore juicier & more flavorful.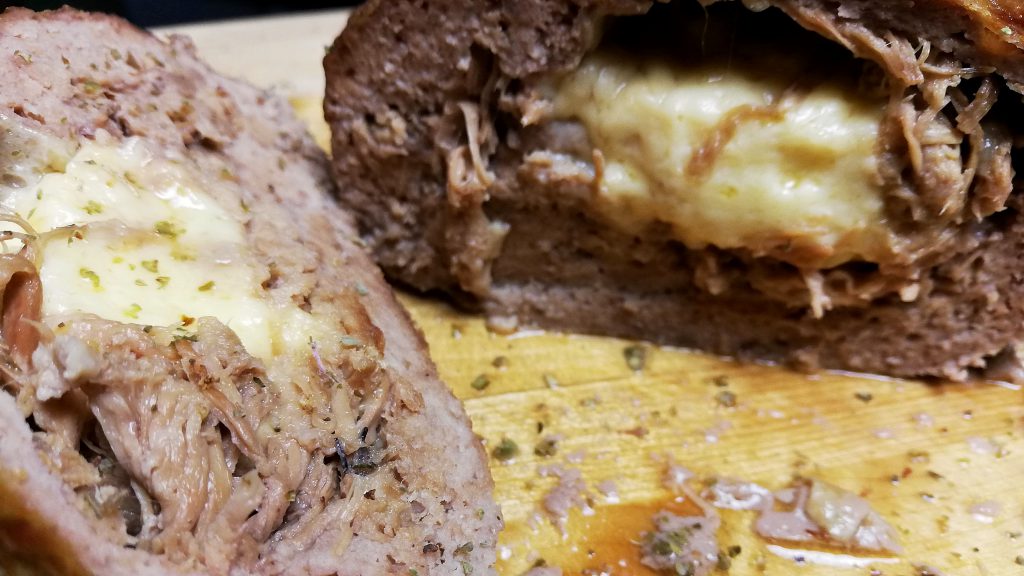 Nutrition Facts
Serving Size 527g
---
% Macronutrients
Amount Per Serving
Calories 1341.52kcal
from Protein 432.48kcal
32%
from net. Carb 4.36kcal
0%
% Daily Value*
Carbohydrate (Netto) 1.09g
4%
---
*Percent Daily Values are based on a 2,000 calorie ketogenic diet (75% fat, 20% protein, 5% net.carbs). Your daily values may be higher or lower depending on your calorie needs and goals.
---