This is my foolproof, super easy pulled pork recipe for which you don't even need a smoker or barbecue grill. It is simply a matter of searing the meat in a pot and braising it for a few hours until most of the water is evaporated. In addition to that, the onion gravy sauce that is prepared with the meat stock really tops it off.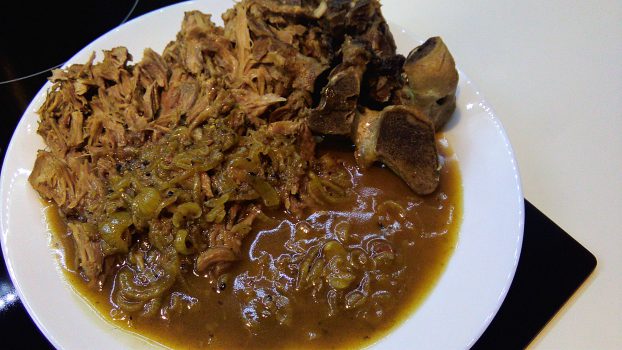 | | |
| --- | --- |
| | |
First, melt the coconut oil in a medium-big pot on medium heat and sear the pork neck in it on each side, for about 5 minutes in total

Next, pour about 3-5 liters of water into the pot. Add enough water to cover the meat, then add about 1/3 to 1/2 of that volume of water on top. So, if you need 3 liters to cover the meat, add 1 to 1.5 liters on top

Now, add the salt, pepper & cumin and put a lid on the pot, but leave a small gap so the water is able to evaporate

Let the pork neck cook on low-medium heat for 4-5 hours until you have 400-500 milliliter of water left and the meat is tender. Then, you can turn the plate off. Make sure to flip the meat 2-3 times within the last 2 hours, if it is not completely covered with water anymore
When the pork neck is done, melt the butter in a pan on low-medium heat. Then, add the onions and fry them for 5-10 minutes until they become golden brown

Now, add salt, pepper & -if you like- a minced garlic clove and fry everything for about 1 minute while stirring

Next, add about 400 milliliter of meat stock from the pot with the pork neck to the pan in order to deglaze the onions

Finally, let everything cook for 10-15 minutes while stirring occasionally until you have a sauce of your desired thickness. In the meantime, cover the pot containing the meat with a lid to keep it warm
The method in this recipe works with nearly any type of meat, but best with cuts that contain fat & some gristle like beef shank or ham hock.
You may also enhance the sauce by deglazing the onions with red wine and let it cook for a minute before adding the meat stock.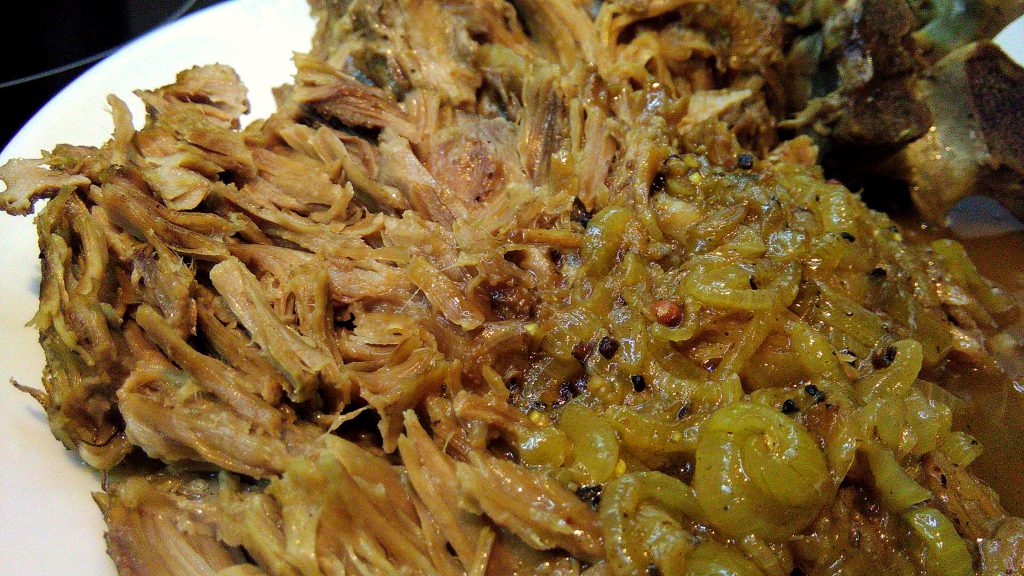 Nutrition Facts
Serving Size 520g
---
% Macronutrients
Amount Per Serving
Calories 752.89kcal
from Protein 206.48kcal
27%
from net. Carb 17.84kcal
2%
% Daily Value*
Carbohydrate (Netto) 4.46g
18%
---
*Percent Daily Values are based on a 2,000 calorie ketogenic diet (75% fat, 20% protein, 5% net.carbs). Your daily values may be higher or lower depending on your calorie needs and goals.
---