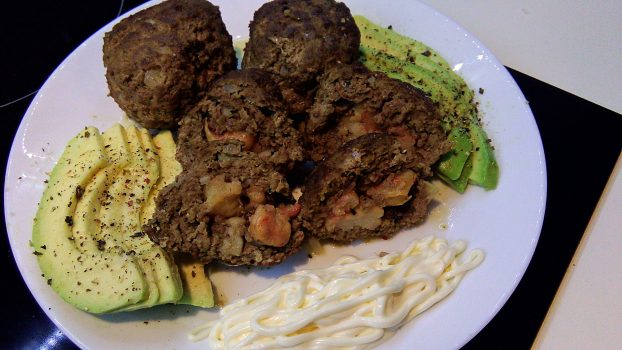 | | |
| --- | --- |
| | |
First, put the shrimps into a pan on low-medium heat and (if frozen) let them thaw for 2-3 minutes before adding the butter. If you use fresh shrimps add the butter and shrimps simultaneously

Let the shrimps cook in the butter for about 5 minutes, then add all remaining ingredients for the shrimps (lemon juice, soy sauce, sichuan pepper, salt, pepper & a pinch of garlic powder)

Now, stir everything and cook it on low heat for about 10 minutes while stirring occasionally. Cook until the water from the shrimps and butter is evaporated and the shrimps get a light golden brown color
While the shrimps are cooking, prepare the meatball mixture. Add the ground beef, eggs & seasonings to a bowl and mix them thoroughly with your hands or a hand mixer with dough hooks

When you have a homogeneous mixture, add the onions and mix everything once more

Now, split the mixture into 4-5 parts, put them onto a plate or breadboard and gently press them into -about 3/4 cm (or 1/3 inch) thick- patties

When the shrimps are finished, place them in the middle of the beef patties. If you like it a bit spicier add some of the sichuan pepper from the pan, too

Now, wrap the patties' edges to the top until everything is closed and use your hands to gently press them into a ball shape

Finally, fry the meatballs evenly for about 15 minutes on low-medium heat first and 3-5 minutes on medium-high heat afterwards in order to get a nice brown color and some roasting flavor
For a dairy free alternative, just replace the butter with coconut oil or lard.
I also added some mayonnaise and an avocado that I sprinkled with some salt & pepper on the side.
If you want a great sauce to go with your meatballs simply add about 150 gram cream to the pan with the remaining grease after frying and taking the meatballs out.
Then, let the cream cook on medium heat while stirring until it is reduced to your desired thickness. This works great with coconut milk/cream, too.
In case you don't want to use cream, slice 2-3 onions and cook them on low-medium heat in the remaining grease until they start to dissolve and everything thickens to a sauce.
Nutrition Facts
Serving Size 228g
---
% Macronutrients
Amount Per Serving
Calories 464.73kcal
from Protein 119.52kcal
26%
from net. Carb 5.36kcal
1%
% Daily Value*
Carbohydrate (Netto) 1.34g
5%
---
*Percent Daily Values are based on a 2,000 calorie ketogenic diet (75% fat, 20% protein, 5% net.carbs). Your daily values may be higher or lower depending on your calorie needs and goals.
---