This pan fried pulled pork recipe for slow roasted pork shoulder is very delicious, saturating and easy to prepare, too. You only need a piece of pork shoulder, oil & butter for frying, some seasonings and about an hour of passive cooking time. The side dish to that can be as simple as boiled eggs or some vegetables.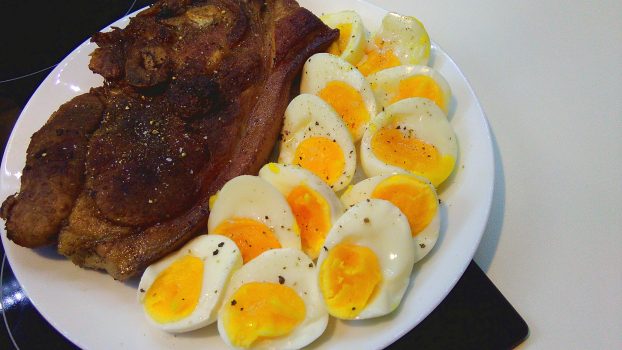 | | |
| --- | --- |
| | |
First, put the coconut oil into a pan on medium-high heat and when it is hot add the pork shoulder

Season the meat with salt, pepper, cumin and coriander on the upwards facing side while searing it on the other for 3-5 minutes. Then, flip it and add the seasonings again while searing the other side, also for about 3-5 minutes until it gets a medium brown color

Now, set your plate to low heat, add the butter to the pan and put a lid on top

Finally, let the pork shoulder fry for about 60 minutes with the lid on and flip it about each 15 minutes. It is perfect, when the meat falls from the bone and you can easily pull the meat fibers apart with a fork
While the pork shoulder is slowly frying and has about 10 minutes left of cooking time, start to prepare the eggs. Simply put them into a pot with boiling water and cook them for about 5 minutes, alternatively use your egg cooker

When they are done, peel the eggs, place them on a plate, cut them in half and sprinkle some salt & pepper on top
Pro Tip: For some awesome vegetables on the side, cook them in a pot or the microwave until they are nearly done. Put the finished meat on a plate and cover it with aluminium foil to keep it warm. Then, shortly fry the vegetables on medium-high heat in the remaining butter and pork grease in the pan.
Nutrition Facts
Serving Size 1094g
---
% Macronutrients
Amount Per Serving
Calories 2356.2kcal
from Protein 656.92kcal
28%
from net. Carb 4.04kcal
0%
% Daily Value*
Carbohydrate (Netto) 1.01g
4%
---
*Percent Daily Values are based on a 2,000 calorie ketogenic diet (75% fat, 20% protein, 5% net.carbs). Your daily values may be higher or lower depending on your calorie needs and goals.
---